Official Ambassador
Sharivari
With over 100.000 YouTube Subscribers, Sharivari has become in a reference in pool instruction. His videos already have more than 12 million views by billiards players from all over the world.
Follow Sharivari
Why is Sharivari a great ambassador?
The advanced technics he uses to illustrate his videos plus his ability to communicate billiard concepts in an understandable way for every player, make his videos really useful for players who want to improve their game.
We have no doubt that his videos can improve your game knowledge to be applied both in your real game and at the shooterspool tables.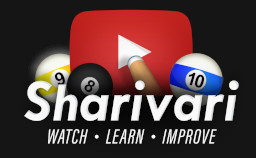 Some lessons from Sharivari
Check some of his best and latest videos to learn and put in practice in your game.
Every Possible Way To Run A Rack - GoPro
How To Solve ANY Problem & Runout
How To Calculate One Rail Kick Shots
How To Break & Run 8 Ball Step by Step - GoPro
How To Draw The Cue Ball Exactly To A Point
Get Better Results with LESS Effort Easily
Position Game & Cue Ball Control
Do You Play Position Like a Pro? | Advanced Principles
Cue Ball Analysis | 9 Ways to Play One Shot
How to Aim With Side Spin
What Spin You Should Use and Why - GoPro
Pool Lesson | Advanced Position Play & Cue Ball Physics
Cueball Physics | Learn to Control The Cueball
Play Pool Like a Pro | David Alcaide
Do you need more pool lessons?
If you want to rocket your game, Subscribe to Sharivari's YouTube Channel!
Improve your game knowledge and apply it to your real games and shooterspool.
Visit the Sharivari YouTube Channel