"Shooterspool is one of the first games that really impressed me with its accuracy in physics"
"Since I was a child, I used to play billiards games on my computer and I enjoyed every single one of it, but at the same time I had no idea about how physics in pool work. Now, around 15 years later, I am a pool player / teacher and gained a lot of knowledge about the game.
Shooterspool is one of the first games that really impressed me with its accuracy in physics. Of course it's just a game and no game can ever come close to the experience you have at a real pool table. But it's the closest I ever felt. What impressed me the most was the accuarcy you have in your stroke by just using your mouse. From the first shot I was able to play shots at the right speed, just like I was playing in real life. The graphics and gameplay with all the different settings you have is top notch.
If you can't get enough of pool - even at home from your couch - I would definetly recommend this game.
Maybe we will meet at the ShootersPool tables soon!"

Haven't tried shooterspool yet?
Shooterspool - Billiards Simulation
Shooterspool is a Windows PC Billiards Simulator developed for real players, which allows you to play very similar to the way you do in a real table.
If you like to play billiard games, you have to try it!
See my promo
Use my Promo to get Shooterspool
CODE SHARIVARI
20% OFF
Because of following me, you can get the full version of Shooterspool with a great discount.
If you are already registered at shooterspool.net you can use the code SHARIVARI at the store. If you are a new player, you can directly get it through the link below.
Get It Now!
*Link to the promo.
Online game
Challenge your game with players from all over the world.
Create your player profile and play friendly matches, team games (2vs2, 3vs3...) or compete in tournaments. Create your full personalized games or join to other's player games.
Play with your friends and meet new players who love the sport. Enjoy playing online pool, snooker and carom games.
Shooterspool is a global billiards community. You can even meet me there as Sharivari!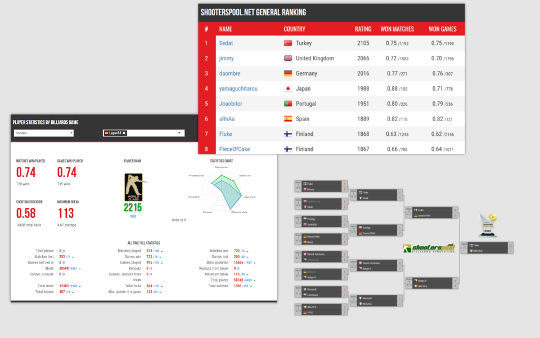 Physics Simulation
A Billiards Simulator for PC!
The game provides you a game experience where you are able to play your games as you do in a real table, where the strategy and the cue ball control are essential.
Either you play billiards in real life or not, Shooterspool will help you to improve some game skills such as the aiming, the cue ball control, the strategy and your game routines.
Don´t believe my words and try it by yourself.
Billiard Games
Pool, Snooker & Carom.
What is your billiards speciality?
Developed for the most demanding Pool, Snooker and Carom players, to offer, to each kind of player, the best game experience.
You can play 8 Ball, 9 Ball, 10 Ball, Straight Pool, One Pocket, Chinese Pool, Blackball, Snooker, Snooker 6-Reds, Straight Rail Billiards, 1 Cushion Billiards & 3 Cushion Billiards.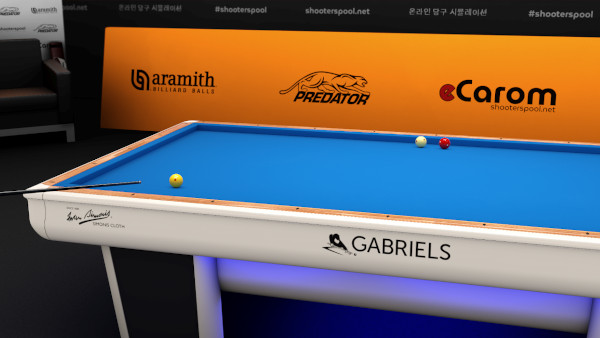 Training Mode
Improve Your Game Performance
One of the most important exercises to get better at your game both in real life and Shooterspool is... The Training!
At Shooterspool you are able to set the balls in the table as you wish, to train any particular shot, recreate real shots or even set a routine/drill.
One cool feature is that you can visalize the physics tracking lines to study and analyze the ball's behavior for a pre-set shot.
This training mode can be definitely be used as a tool to improve your real game and knowledge.
Give it a try!
You can play with real Billiard Brands!
The game includes real simulations of some of the biggest billiard brands in the world so you can feel the most faithful gaming experience.
This allows you to set your games with the same settings of the world greatest billiard competitions.
Remember to use my code to get Shooterspool!
CODE SHARIVARI
If you are a Free2Play player use the code SHARIVARI at the store.
If you are a new player use the link bellow.
Get It Now!
*Link to the promo.

System requirements
Minimum requirements
OS:
Windows Vista / 7 / 8 / 8.1 / 10
CPU:
Intel x86 compatible
Graphics card:
OpenGL 3.0 compatible
Network:
Internet connection
Hardware:
Keyboard & Mouse
Recommended requirements
OS:
Windows Vista / 7 / 8 / 8.1 / 10
CPU:
Intel x86 compatible 3.0 Ghz
Graphics card:
OpenGL 3.0 compatible, AMD Radeon HD 5750, NVidia GeForce GTX 460
Network:
Internet connection
Hardware:
Keyboard & Mouse