Are you a Billiards Player?
Shooterspool - Billiards Simulation
Shooterspool is a Windows PC Billiards Simulator developed for real billiards players. Play as you would in real life and you will dominate the game.
If you are a Pool, Snooker or Carom player, this is your game!
Physics Simulation
Shooterspool is a Billiards Simulator for PC!
Our main goal is to provide you a game experience where you are able to play your games as you do in a real table, where the strategy and the cue ball control are essential.
Either you play Carom in real life or not, Shooterspool will help you to improve some game skills such as the aiming, the cue ball control, the strategy and some physics knowledge.
Don´t believe our words and try it by yourself.
Online game
Challenge your game with players from all over the world.
Create your player profile and play friendly matches, team games (2vs2, 3vs3...) or compete in tournaments. You can create your full personalized game rooms or join to other's player rooms.
Play with your friends and meet new players who love to play 3 cushion billiards games.
This is more than a game, Shooterspool is a global billiards community.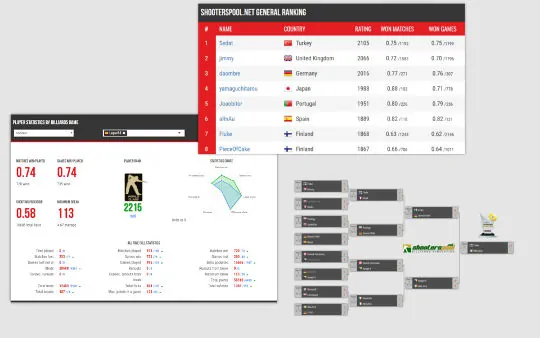 Will you try it?
The best Billiard Brands support us!
We bring you virtual recreations of the best real billiards tables, cues, ball sets and cloths, so you can feel the most faithful gaming experience.
Play at the highest level setting your games with the same settings of the world greatest billiard competitions.
Real Billiards Equipment
Have you ever played in the official table of the Ceulemans Cup?
Experience how it feels playing on the amazing Gabriels Rafale, a real challenge in a professional carom table.
Set also your games with the Simonis cloths and the Aramith balls to play at the highest level.
The table, cloths and balls has been recreated with all the details, both visual and technical, to provide you the best gaming experience.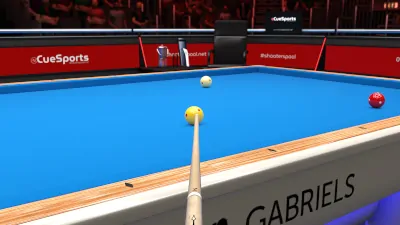 What is your billiards speciality?
A global billiards simulator.
Shooterspool has been developed for the most demanding players of Pool, Snooker and Carom including the most popular billiards games such as Straight Rail Billiards, 1 Cushion Billiards, 3 Cushion Billiards, 8 Ball, 9 Ball, 10 Ball, Straight Pool, One Pocket, Blackball, Chinese Pool, Snooker, Snooker 6 Reds.
See you at the tables!
If you are looking for a billiards simulation,
this is your game!
Chalk your cue and challenge your game with players from all over the world.
Join Us Now!
They have tried Shooterspool, Will you?
What the professional billiards media say about Shooterspool?
Sharivari

"I am a Pool Player/Teacher and Shooterspool is one of the first games that really impressed me with it's accuracy in physics. It is the closest experience to the real game that I have felt. From the first shot I was able to play as in real life. The graphics and gameplay with all the different settings you have is top notch. I would definetly recommend this game.
Maybe we will meet at the Shooterspool tables soon!".
The Billartist

"The billiards video game that defies reality.
Shooterspool is the most complete and realistic billiard simulator for PC I've ever tried.
In this simulator you can control the cue ball and yes, you can plan the game as you would at a real table. The balls, the cushions and the spins react like in a real game."

System requirements
Minimum requirements
OS:
Windows Vista / 7 / 8 / 8.1 / 10
CPU:
Intel x86 compatible
Graphics card:
OpenGL 3.0 compatible
Network:
Internet connection
Hardware:
Keyboard & Mouse
Recommended requirements
OS:
Windows Vista / 7 / 8 / 8.1 / 10
CPU:
Intel x86 compatible 3.0 Ghz
Graphics card:
OpenGL 3.0 compatible, AMD Radeon HD 5750, NVidia GeForce GTX 460
Network:
Internet connection
Hardware:
Keyboard & Mouse