Ready to play PRO?
Get Shooterspool With A
20%OFF

& Raise Your Game Experience To The Next Level
Do you have a Free2Play account?
1. Login with your account.
2. Use the code PLAYPRO20 at the checkout.
Log in
New to Shooterspool?
1. Follow the button below.
2. Get Shooterspool with the promo.
Get it here!
The purchase of Shooterspool is a ONE TIME PAYMENT. NO subscription plans or recurring payments.
It's great to play for Free but...
Do you know all the game features that you are missing?
Avoid waiting for a game at the Free2Play game rooms or setting basic games.
Create your own fully customized game rooms, play in any game room or even set a private game for your friends.
Play the daily tournaments and start competing in the special events.
Unlimit Your Game Experience!
Get The Full Game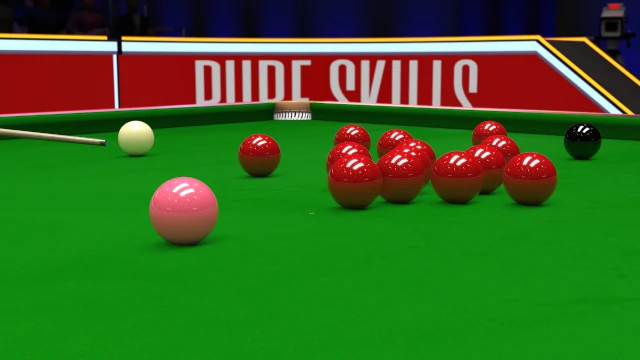 Play Any Billiards Game
Are 8 Ball, Snooker 6-Reds & Straight Rail Billiards enough for you?
9 Ball, Snooker & 3 Cushion Billiards are the most popular games through the Shooterspool players.
You can also play 10 Ball, 14.1 Straight Pool, One Pocket, Chinese Pool, Blackball, Custom Snooker & 1 Cushion Billiards.
Don't be afraid to challenge your game against more players in different billiards games and grow as a player!
Your Game Statistics & Rankings
Try to Raise the TOP of the Rankings!
Check all your game statistics, compare them in real time with other players and try to improve your game.
Grow from Rookie to World Class Player and put your name at the World Rankings.
Start your online billiards career.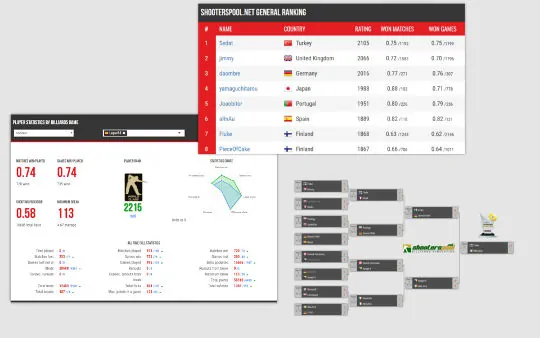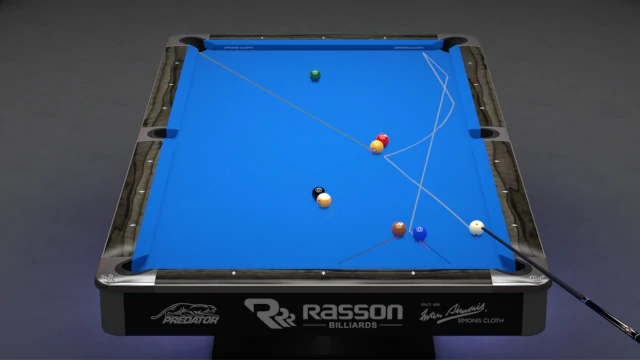 Training Mode
Improve Your Game Performance
One of the most important exercises to get better at your game both in real life and Shooterspool is... The Training!
At Shooterspool you are able to set the balls in the table as you wish, to train any particular shot, recreate real shots or even set a routine/drill.
This training mode can be definitely be used as a tool to improve your real game and knowledge.
Will you try it?
The best Billiard Brands support us!
We bring you virtual recreations of the best real billiard tables, cues, ball sets and cloths, so you can feel the most faithful gaming experience.
Play at the highest level setting your games with the same settings of the world greatest billiard competitions.
Take advantage!
What are you waiting to start playing at the highest level?
Use the code PLAYPRO20 at the checkout and get a 20%OFF to improve your game expetience.
Get it here!
They have tried Shooterspool, Will you?
What the professional billiards media say about Shooterspool?
Sharivari

"I am a Pool Player/Teacher and Shooterspool is one of the first games that really impressed me with it's accuracy in physics. It is the closest experience to the real game that I have felt. From the first shot I was able to play as in real life. The graphics and gameplay with all the different settings you have is top notch. I would definetly recommend this game.
Maybe we will meet at the Shooterspool tables soon!".
The Billartist

"The billiards video game that defies reality.
Shooterspool is the most complete and realistic billiard simulator for PC I've ever tried.
In this simulator you can control the cue ball and yes, you can plan the game as you would at a real table. The balls, the cushions and the spins react like in a real game."

System requirements
Minimum requirements
OS:
Windows Vista / 7 / 8 / 8.1 / 10
CPU:
Intel x86 compatible
Graphics card:
OpenGL 3.0 compatible
Network:
Internet connection
Hardware:
Keyboard & Mouse
Recommended requirements
OS:
Windows Vista / 7 / 8 / 8.1 / 10
CPU:
Intel x86 compatible 3.0 Ghz
Graphics card:
OpenGL 3.0 compatible, AMD Radeon HD 5750, NVidia GeForce GTX 460
Network:
Internet connection
Hardware:
Keyboard & Mouse